Gutter & Downspout Installation in Greater Oklahoma City
Professional gutter systems prevent soil erosion & more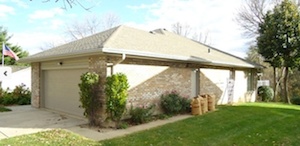 The right gutter and downspout system provides protection against roof damage, soil erosion, and basement flooding.
Gutters are crucial to prolonging the structural integrity of your home. Gutters serve two main purposes: Ensuring that water does not collect on your roof, and properly diverting water away from your house.
These are important roles for protecting your foundation, siding, windows, landscaping, soffit and fascia. Over time, the continuous flow of water will carve into anything in its path – up to and including your foundation!
A gutter that is clogged with leaves, dirt, needles or other debris tends to mimic the behavior of a gutter-less home. Improper draining and water overflow may happen.
A home equipped with gutters from LeafGuard is guaranteed to have years of maintenance-free, clog-free service. LeafGuard of Oklahoma is trained and certified in the installation of these gutters, and we are proud of the highly skilled service we can offer. Schedule a free estimate with us today in Greater Oklahoma City!
Products
For over 30 years, Englert has been manufacturing industry leading seamless residential gutter systems and accessories. Englert Gutters come with a limited lifetime warranty on all gutter materials and labor, as well as a guarantee the gutters will never clog or we will clean it for free.
Why get LeafGuard®?
LeafGuard® is an advanced rain gutter protection system. Regular gutters carry water away from your home, but LeafGuard is the only all in one, clog free gutter system designed to be the best on the market.
prevents gutter clogs
maintains water flow effortlessly
drastically reduces the risk of water leakage and then damage
never have to climb up a ladder to clean your gutters again!
Why do traditional gutters fail?
Gutters traditionally fail for 4 main reasons:
They are not sloped properly – This allows water to pool and eventually the gutters may pull away from the home
The gutters are clogged – Leaves, needles and branches can easily clog a traditional gutter system, causing it to backup or overflow.
The gutters leak – Gutters composed of multiple pieces of sheet metal can develop leaks in the seams.
They pull away from the fascia – If not properly installed, a gutter may pull away from the fascia causing serious damage to your home.
LeafGuard gutters are designed to prevent failure.
All LeafGuard gutters are custom molded on site from one piece of aluminum that is 20% stronger than all other gutter systems. Our certified professional installers attach the internal fasteners directly to the fascia board of the home at the proper slope – ensuring that the integrity of the roof is never compromised.
LeafGuard gutters are backed by a lifetime "No Clog Warranty" meaning that if there ever happens to be a clog, we will come out to your home and promptly fix the issue.
The patented and seamless one-piece design ensures that a LeafGuard gutter will never leak.
How can you tell if your gutters are failing?
A working gutter system is an essential part of the long-term maintenance of your home. If your gutters are failing, you should replace or repair them immediately to prevent serious damage to your home.
Typically, you can see the warning signs of a failing gutter system. If your wood, soffit or fascia are rotting, you may have failing gutters.
Another good indication of failing gutters is the presence of an indent or wear in the dirt or concrete underneath where the gutters are or should be. On multi-level homes where there are gutters above roof segments, the presence of wear to the shingles directly below the gutters is a good indicator of failure.
In more severe cases, there may be damage to your homes foundation. This damage may include staining, cracks or crumbling of the brick around the home.
Additionally, the presence of termites usually is a sign of a high moisture content. This can be an indication that water is not being properly displaced from your home due to your gutters not working properly.
How can you prevent gutter clogs?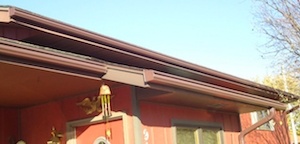 Make cleaning gutters a thing of the past with LeafGuard gutter guards.
Let's face it, you can't prevent leaves from falling or branches from breaking – preventing gutter clogs is no easy task. That's why we created our innovative and patented LeafGuard gutter system.
Leaves, pine needles and other debris can end up in traditional gutter systems. They block the water flow and clog the gutter.
Over-the-counter "solutions" such as screens and other gutter covers regularly fail and become clogged themselves. Improper installation can lead to even more serious problems with your roof or siding. It is simply not possible to prevent clogs with traditional gutter systems.
The LeafGuard gutter system by Englert is the only 100% certain and worry-free way to prevent clogs.
The benefits of installing a one-piece LeafGuard gutter system include:
Never having to worry about or clean your rain gutters again
Durable, seamless, custom fit design
Professional installation that will not harm your roof or siding
The industry's strongest gutter – 20% thicker aluminum than all other gutters
The Good Housekeeping Seal of Approval
Maintenance-free and clog-free gutters for life – Guaranteed!
At LeafGuard of Oklahoma, we are a certified Englert LeafGuard gutters dealer. We proudly serve Greater Oklahoma City and the surrounding areas with installation and service for Good Housekeeping's only approved gutter system.
Get the complete gutter services you need for your home
If you're interested in gutter replacement or gutter installation for your home, the experts at LeafGuard of Oklahoma are here to help. Our experienced professionals will help you determine the right gutter services and materials for your needs and provide you with a quality repair or installation.
Call us today at 1-844-805-2659 or contact us online to get started on your gutter project. We offer free estimates on all our work in Mounds, Tulsa, Broken Arrow, Sapulpa, Bixby, Jenks, Sand Springs, Glenpool, Okmulgee, Bristow and throughout the surrounding areas.
Looking for a price? Get a no cost, no obligation free estimate.